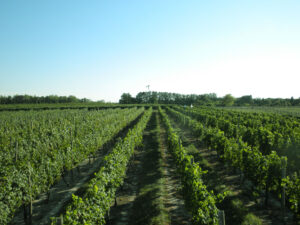 Each October, the Virginia Wine Board celebrates Virginia's heritage as one of the country's earliest wine producers, beginning with the first settlers of Jamestown in 1609. Today, winemaking in the Commonwealth is a $1.4 billion industry and, with more than 300 wineries within its borders, ranks 6th for the states with the most wineries in the United States.
The Chesapeake Bay Wine Trail is proud to have as a member one of Virginia's oldest wineries, Ingleside Vineyards, founded in 1980. Owned by the Flemer family since 1890, the historic estate has been designated a Virginia Century Farm, honoring over 100 consecutive years of farm operation. A pioneer of the modern wine industry in Virginia, Ingleside was the first winery in Virginia to produce a méthode champenoise sparkling wine, and one of the first to bottle a varietal Petit Verdot.
Northern Neck George Washington Birthplace AVA
The Northern Neck area, home to all but one member of the Chesapeake Bay Wine Trail, (Caret Cellars is located on the Middle Peninsula) is another birthplace of American wine. Designated an American Viticultural Area (AVA) by the U.S. Treasury's Alcohol and Tobacco Bureau in 1987, the Northern Neck George Washington Birthplace AVA is a grape-growing region distinguished by its proximity to the Chesapeake Bay and Rappahannock and Potomac Rivers. This AVA is one of only three places in the world where wine grapes grow on the land next to waters where oysters are dredged. The sandy, rocky soil composition is similar to that along the banks of the Garonne River, in the French city of Bordeaux. (Fun fact: Kiki Apple, owner and winemaker at Trail member Monroe Bay Winery learned the craft of winemaking while living in France!)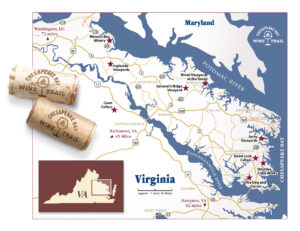 According to Wine-Searcher:
The sandy loam soils in Northern Neck George Washington Birthplace are typical of this kind of estuarine landscape. Free-draining and low in fertility, they help to stress the vines, lessening vigor and leading to the development of small berries with a good concentration of sugars and acids. This translates into richness and flavor intensity in the wines.
The result is a perfect pairing "where the terroir of the grape meets the merroir of the oyster," says Dudley Patteson, owner of Trail winery The Dog and Oyster. "A lot of water goes through vineyards. The relationship between oysters harvested from those waters and wine grapes grown beside them result in a pairing that is in complete harmony."
Where the terroir of the grape meets the merroir of the oyster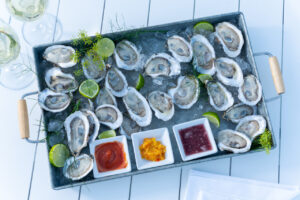 Speaking of oysters, members of the Chesapeake Bay Wine Trail are busy preparing for the Trail's annual Fall Oyster Crawl, held this year on November 11 &12. (There is also an annual Spring Oyster Crawl.) Experience local wines and oyster pairings, live music, oyster education, wine deals, and special events at participating wineries, including Ditchley Cider Works, The Dog and Oyster, General's Ridge Vineyard, Good Luck Cellars, Ingleside Vineyards, Jacey Vineyards, and Monroe Bay Winery.
Save BIG during the Oyster Crawl-or any other day-with the Trail's limited-edition Tasting Pass and Passport Program. The Tasting Pass entitles guests to one wine tasting at any participating Trail winery (typically representing a savings of at least 50% over normal tasting fees); while Passport holders save up to 15% on wine with the earning of stamps with each visit to a Trail winery.
Celebrate Virginia Wine Month
During Virginia Wine Month, wineries in the state celebrate with special events, seasonal cuisine and pairings, and deals on wine. Here, on the Chesapeake Bay Wine Trail, guests can experience life as a winemaker by joining Trail member Good Luck Cellars in harvesting grapes. Volunteers who participate in this unique experience learn more about the hand-picked process, have fun and get paid in "good luck" (wine!)
October is also prime cider season, when apples are at peak freshness. Ditchley Cider Works is the only cidery on the Chesapeake Bay Wine Trail, offering a variety of ciders, as well as farm-to-table meat and poultry products. Weekly Sunday Brunch features cider mimosa, cider doughnuts and other seasonal treats. Guests can even sign up to be a farm hand for a day or participate in an archaeological dig on the historic property.
It doesn't have to be Virginia Wine Month for General's Ridge Vineyard to celebrate! EVERY month the winery features live music and/or special events, such as Sip & Paints, dances, and more. Guests even have a chance to win an overnight stay at the winery's Manor House overlooking the vineyard.
Explore the Vineyards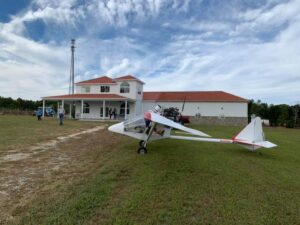 Fall is the perfect time to visit a winery – crisp, cool temperatures; blazing autumn colors; fewer crowds – and Virginia Wine Month is the perfect reason! Make it a weekend (or longer!) adventure by staying overnight onsite at the wineries. Several Trail members offer accommodations, including Ditchley Cider Works, General's Ridge Vineyard, and The Dog and Oyster's Hope & Glory Inn.
Plan one last boat trip of the season and dock at Jacey Vineyards, situated on a private cove just off of the Chesapeake Bay, and one of few vineyards nationwide at which visitors can arrive by boat. At Caret Cellars, guests have been known to arrive by plane!
For more travel tips and ideas, check out the Itineraries page on our website to find attractions and things to do along the Chesapeake Bay Wine Trail.
Share This Post!