Good Luck Cellars (GLC) was resurrected from an old sand and gravel mine into an estate winery — they grow twelve grape varieties and make hand-crafted wines that are bottled on site.
Vineyard owners, Paul and Katie Krop, shared a vision of creating a community-based vineyard and winery out of a parcel of land that was used for mining top soil, sand, and gravel. The earth remaining from the mine was perfect for cultivating grapevines. With the help of an amazing team of experts and the support of family and friends, Paul and Katie now have nearly 25 acres of vines planted and an impressive production facility for all of their hand-crafted, estate-grown wines.
Wines Produced:
Cabernet Franc, Cabernet Sauvignon, Chambourcin, Chardonel, Chardonnay, Norton, Petit Verdot, Seyval Blanc, Traminette, Vidal Blanc, Vignoles, Viognier.
Group Policy:
For groups of 6+, please call ahead to ensure we have space and staffing allotted to make certain you have a pleasant experience.
Food Available:
Visit our website/Facebook event sites to know if there is a food truck scheduled on the day of your visit. On site, we offer various flavored peanuts, meat/cheese snack packs, and blocks cheese with crackers. You're also welcome to bring food in.
Pet Policy:
Friendly, social dogs on leashes are welcome on our porch. Don't have a dog? Pet ours — we have twelve rescue dogs that patrol the vineyards, chasing away wildlife so our grapes have a chance to thrive and later become the wine we all enjoy. They're all super friendly, but sometimes get excited when visitors come to play. They're restrained by invisible fencing, so they won't try to go home with you no matter how many milk bones you give them; they'll remain in their cozy, designated section.
Popular winery events:
Wine Down Fridays are popular all year long with music and dancing. Be sure to visit our website/Facebook event pages often as we're constantly adding events.
Tasting Fee:
$1 per one ounce tasting. A full tasting includes seven tastings of your choice for $7.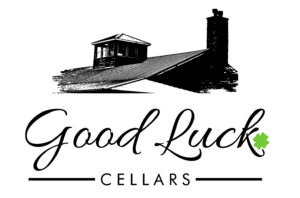 Contact
1025 Good Luck Rd
Kilmarnock, VA 22482
804-435-1416
Hours
Mon: 11am - 5pm
Thu: 11am - 5pm
Fri: 11am - 8pm
Sat: 11am - 6pm
Sun: 12pm - 5pm
(Closed Tue-Wed.)