Rick and Linda Phillips discovered nestled in the quaint countryside of Virginia's historic Westmoreland County, located in the heart of the Northern Neck, almost one hundred acres of farm and an old rundown farmhouse. They had a vision of a beautiful vineyard. They had a dream.
Currently, a little over thirty of the one hundred acres are under vine.
The old rundown farmhouse, originally built in the mid 1800's, was quite a challenge, but has been fully restored and sits amongst the vines. The house, with 3 full bedrooms is available to rent and enjoy.
Peering over the vineyard you will find a newly constructed two bedroom cottage called Vineyard Views. More modern than the Manor House, it, too, has a charm of its own.
The Carriage House is located underneath Vineyard Views and is just waiting for the next wedding reception or off site business meeting to take place.
You are welcome to join us in the Somewhere in Time tasting room to explore our wines.
Wines Produced:
Cabernet Franc, Chardonnay, Generals Nightcap, General's Last Call, General's Reserve, GRV White, GRV Red, GRV Rosé, Merlot, Petit Manseng, Petit Verdot, Pinot Grigio, Sparkling Semper Fi, Viognier, Westmoreland Red
Group Policy:
We allow buses and/or limo's with reservations. Please call ahead for groups of 6 or more.
Food Available:
There is a bistro menu with light fare. We welcome picnics.
Pet Policy:
We allow well behaved dogs, on a leash, only in the large tasting room and on the patio.
Popular winery events:
Oyster Crawl, Holiday Open House, Art and Wine Night, Mystery Dinner Theater, Teacher Appreciation, Blessing of the Vines, Friday nights with DJ, Wine Club Pick Up Parties
Tasting Fee:
Tasting flights are available and include a tasting of 6 wines for $14.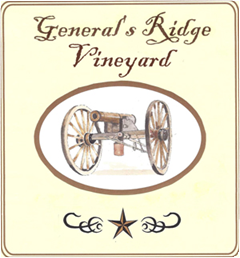 Contact
1618 Weldons Dr
Hague, VA 22469
804-472-3172
Hours
Fri: 12 - 6pm
Sat: 12 - 6pm
Sun: 12 - 5pm