Prepare your taste buds for an exquisite experience! The Dog and Oyster Vineyard, in Irvington, Virginia, consists of more than six acres of Vinifera and French American Hybrid vines. There are four varieties of grapes: Chardonel and Vidal Blanc are used for our white wines, while Chambourcin and Merlot are our reds.
What sounds like a storybook is actually our quirky vineyard, which is named after our rescue dogs that save our grapes from hungry wildlife, and the Chesapeake Bay region's greatest-known asset, the oyster. The vineyard attracts guests from near and far that are looking for wineries to explore in Virginia. Whether you are looking to visit for the day or plan a weekend getaway to our inn, The Dog and Oyster Vineyard offers a unique experience for all visitors.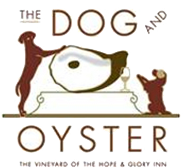 Contact
170 White Fences Dr
Irvington, VA 22480
804-438-9463
Hours
April 2021: Fri-Sun 11am-5pm.
Charcuterie available on Fridays. Oysters available on Sat and Sun.