We are so excited to transition from our former vineyard to become the Dog and Oyster Micro-Vineyard and Oyster Bar. It's an added upscale and elegant amenity for our guests, neighbors, friends and all who come to visit our storybook town.
Inside our heated clear span tent, it is warm and inviting and you can see our vines and the sky. We also have two firepits. Dog and Oyster wines are being offered by the flight, glass, bottle and case. Our Chef is featuring house made charcuterie and irresistible Bloody Mary Oyster Shooters.
Our new tasting room is now conveniently located on King Carter Drive, in the front of the Hope and Glory Inn.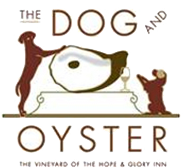 Contact
65 Tavern Rd
Irvington, VA 22480
804-438-6053
Hours
Fri: 2-6pm
Sat & Sun: 12-6pm