Jacey Vineyards distinguishes itself by the breadth of experiences offered to its patrons. With three docks on our own private cove, you can find us up Mill Creek off of the Chesapeake Bay – we are one of few vineyards nationwide at which visitors can arrive by boat. The tasting room offers a charcuterie tapas plate, as well as pizzas, to entice your palate.
The first vines were planted in 2004 with Vidal Blanc, Petit Verdot and Zinfandel varieties. Expansion began with Albarino, Malbec, Sauvignon Blanc and Cabernet Sauvignon. The Jacey Vineyards land has been in the family for over 40 years and all wine production is done in-house.
Our boutique winery welcomes you to experience the warmth and charm of our grounds, tasting room and hospitality.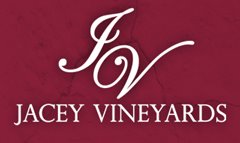 Contact
619 Train Lane
Wicomico Church, VA 22579
804-580-4053
Hours
Friday: 4-9pm (Open Mic Night)
Saturday: 12-5pm