Ditchley is a historic Lee family site on 162 acres located on Dividing Creek with views of the Chesapeake Bay. Along with the renovated 1752 Manor House is the Cider House and tasting room with accommodations for up to 16 for a weekend vacation stay, wedding parties or elopement. Space is available in the Manor House for a buffet, cocktail reception, reunion, intimate inside seated dinner or an outside larger event/wedding.
From our private beach, you can launch a kayak or paddleboard or come ashore on our dock from your boat. You can sign up to be a farm hand for a day, assist with our archeological dig or pedal your way around the back roads of the Northern Neck. Farm to Table Dinners can be arranged using our beef and pork products (all sulfate, sulfite and MSG free) and locally-sourced fresh veggies. We have two commercial kitchens, so catering is available for both small and large groups.
If you are looking for a more relaxed stay, there are plenty of opportunities for visits to other historic sites, shopping and dining at nearby locations.
Ciders Produced:
Ditchley Blush; Rivah; G-8; Simple
Group Policy:
Reservations for groups of 6 or more available through Table Agent and highly recommended for Brunch through our website.
Food Available:
Small plates on Saturdays. Brunch with Cider Mimosas on Sundays.
Pet Policy:
Well behaved dogs on leash allowed on grounds, but not in buildings.
Popular Events:
Arrival by boat; Farm to Table Dinners for AirBNB guests; Antique Car Show 2nd Sat. in Sept.
Tasting Fee: $6. (Manor House tours: $10)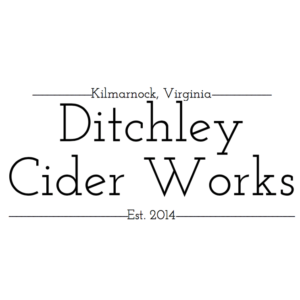 Contact
1571 Ditchley Road
Kilmarnock, VA 22482
804-435-3851
Hours
Sat: 12-4pm (On the Lawn or under the tent)
Sun: Brunch from 11am-2pm. Open til 3.
Closed January/February (except Wine & Cherries on Feb. 18th). March is weather dependent.
Check website for any changes.