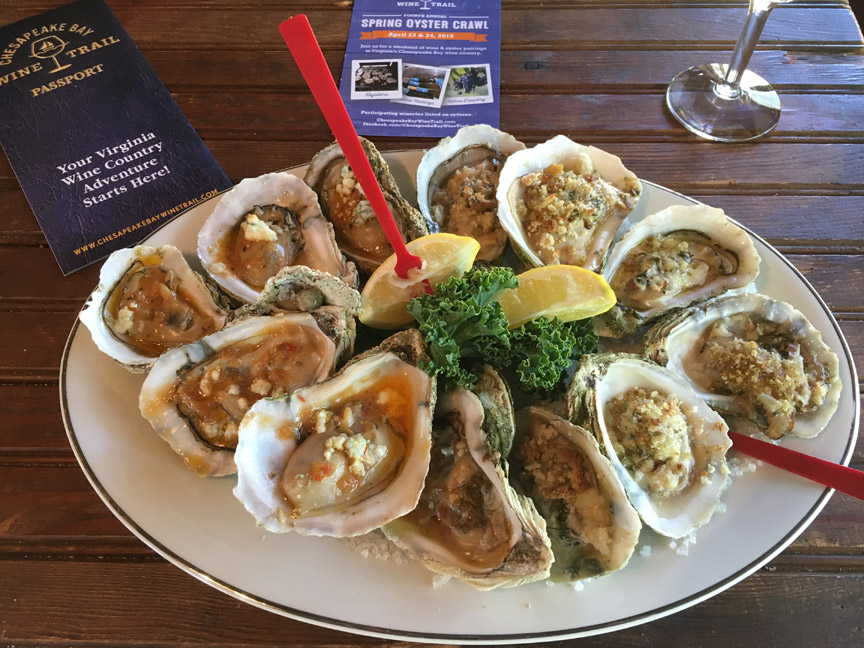 The Commonwealth of Virginia has a centuries-old oyster history, notably the Northern Neck region, epicenter of the Potomac River Oyster Wars. Today, Virginia is considered the Oyster Capital of the East Coast, thanks to the quality, abundance, and variety of oysters locally harvested.
Due to its location, bounded by the Chesapeake Bay and its tributaries, the Chesapeake Bay Wine Trail celebrates these local bivalve mollusks during its Spring & Fall Oyster Crawls, held annually in April and November. Some Trail wineries serve oysters, from across the state, year round.
Designated an American Viticultural Area (AVA), Virginia's Northern Neck George Washington Birthplace AVA is one of only three (3) places known in the world where wine grapes grow on the land next to the waters where oysters are dredged. The sandy, rocky soil composition is similar to that of Bordeaux; but whereas the city in southwest France has the Gironde estuary and the Dordogne and Garonne Rivers, the Northern Neck has the Chesapeake Bay and the Rappahannock and Potomac Rivers.
Virginia's Oyster Regions
Though all Virginia oysters are the same species, Crassostrea Virginica, the merroir varies depending on where, from eight distinct regions, oysters are harvested.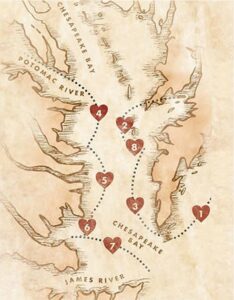 1) Seaside: Initial bold saltiness mellowing into a taste of sweet butter/cream at the finish
2) Upper Bay Eastern Shore: Classic Virginia Bay oyster flavor with balanced salt and sweet, with a savory finish
3) Lower Bay Eastern Shore: Salty and creamy with mellow sweetness with a quick finish
4) Upper Bay Western Shore: Sweetwater oyster with a light cream taste
5) Middle Bay Western Shore: Lightly salty with easily distinguished cream or butter and a pleasant slight minerality
6) Lower Bay Western Shore: Mild saltiness moving to a sweet finish.
7) Tidewater: Salty oyster with sweetness and a smooth finish
8) Tangier/Middle Chesapeake Bay: Traditional Virginia Bay Oyster flavor with a balance of salt and sweet, and a savory butter/cream finish
Wine & Oyster pairings
To take full advantage of the Chesapeake Bay Wine Trail's location "where the terroir of the grape meets the merroir of the oyster", wines should be carefully selected so as to not overpower the wine or the oysters. Consider the type of oysters, their specific characteristics, and how they are prepared in order to bring out and complement their unique flavors.
In a recent email newsletter, we shared a few recommendations for wine and oyster pairings from Trail wineries, including:
The Dog and Oyster Micro-Vineyard and Oyster Bar is one of the few places in the Chesapeake Bay region to offer numerous oyster varieties from multiple farms. The Trail winery, located on the grounds of the Hope & Glory Inn in Irvington, Virginia, specially-crafts wines to pair with oysters, and serves oysters in traditional and unique ways: raw, roasted, in a stew or crab salad, part of a charcuterie platter, even as dessert!
Oyster White is a Chardonel and Vidal blend, which enhances the flavor of the oyster. Pearl is 100% Vidal Blanc, crafted after France's most popular oyster-pairing wine, Muscadet.
Bloody Mary Shooters: "There is something alluring about a shooter," says winery owner Dudley Patteson (with wife Peggy), credited as being the originator of the Virginia Oyster Trail, which takes visitors through Virginia's eight different oyster/flavor regions. Made of a freshly shucked local oyster, Gold Standard Sacramento Tomato Juice, and finished off with a celery stalk.
Dessert Oysters were introduced by Hope & Glory's longtime creative Chef Meseret Crockett, a native of Ethiopia, who infuses flavors from her homeland, such as the cold and sweet lime sorbet that prepares the palate for the fresh salinity and dill of the oysters. The success of this dish already has the Chef and the Pattesons planning more unique entrees for next season.
The Chesapeake Series collection from Trail winery Ingleside Vineyards, located just off the Potomac River in Oak Grove, celebrates the lifestyle and heritage of the Chesapeake Bay region. Labels on the wine bottles showcase a different aspect of the flora and fauna of the Bay and are aptly named Blue Crab Blanc, Coastal Red, Coastal White, and Red Drum. Additionally, the winery's limited-production Albariño is particularly suited for pairing with local oysters.
Ingleside is a regular participant in the Trail's Oyster Crawls, frequently serving a variety of oyster dishes by Denson's Grocery. Rocky Denson, who owns award-winning Denson's with his wife Blaire, loves oysters and is known for the creative ways he prepares them. When asked if he is the 'Bubba Gump' of oysters, Rocky replied, "I guess I am. I fry them, stew them, grill them, saute them, make them with butter and garlic, in oyster stew and even a special sauce from North Carolina. It's something I love to create because I love oysters. I'll only put on the menu what I enjoy eating." Emphasizing Chesapeake Bay 'Farm to Table' dining, Denson's specializes in oysters from the Upper Bay Western Shore region, which yields sweetwater oysters with a light cream taste.
Good Luck Cellars, in Kilmarnock, often hosts The Tidewater Oyster Gardeners Association, which teaches oyster aquaculture methods, the benefits of growing oysters and, most importantly, awareness of the importance of helping to improve the ecology of the Chesapeake Bay.
Further, on weekends, don't be surprised to find a local food truck onsite serving up oysters. Frequent food trucks visiting Good Luck Cellars include Salty Bob's Oyster & Seafood Co., known throughout the region for its fried and smoked oysters, oyster shooters and more.
Ever have Oyster Pizza? Trail winery Jacey Vineyards offers its Lisa Pizza, a white sauce pizza with spinach and Parmesan cheese, topped with oysters. Or try its Oysters Ala Jacey, oysters baked in a casserole with roasted garlic butter and Parmesan cheese and topped with bacon. Of course raw oysters are available, too!
Did you know that cider pairs particularly well with oysters? The taste of crisp apples complements the oysters and because cider imparts a light, delicate flavor, it doesn't overpower the merroir of the oyster.
It just so happens that the Chesapeake Bay Wine Trail has a cidery amongst its members: Ditchley Cider Works. Another regular participant in the Trail's Oyster Crawls, Ditchley also periodically features oyster dishes paired with its ciders during special events (including Sunday Brunch) during the season.
Oyster-themed events
In addition to its own Spring & Fall Oyster Crawls, members of the Chesapeake Bay Wine Trail also participate in offsite events and festivals where oysters are served, such as the Stratford Hall Wine & Oyster Festival, Urbanna Wine and Oyster Stroll, Taste by the Bay and more.
Visit our Wineries page for links to Trail members' websites and social media accounts to learn more about their oyster offerings. Share this blog with the oyster lovers in your life!
Cheers!
Share This Post!