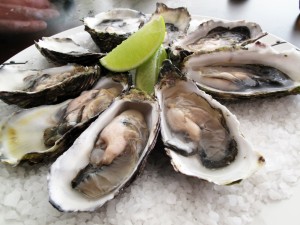 Saturday & Sunday, November 11-12, 2017
Join the wineries of the Chesapeake Bay Wine Trail for our 5th Annual Fall Oyster Crawl! This year's event will take place over a full weekend on Saturday & Sunday, November 11 and 12, 2017. Each participating winery will be offering one or more delicious oyster dishes to pair with their wines.
Virginia is quickly becoming known as the "Oyster Capital of the East Coast." And a great way to enjoy the experience is with local wines & oyster pairings along the Chesapeake Bay Wine Trail – recently voted the #2 Wine Trail in Virginia by the readers of Savor Virginia Magazine (learn more).
After experiencing the Oyster Crawl, you too will agree that "Virginia is for Lovers"… of wine and oysters!
Here is the list of participating wineries:
– Caret Cellars (Caret, VA): Raw Oysters and Roasted Oysters, prepared onsite by Big Island Aquaculture. PLUS, live music both days by the Low Voltage Acoustic Duo.
– Dog and Oyster Vineyard (Irvington, VA): Oysters on the Half Shell, Roasted Oysters, Fried Oysters and Fried Oyster Tacos. Plus, Oyster Stew made with Wild Caught Rappahannock Oysters, Collard Greens, Country Ham and Sweet Onions. All prepared by Byrd's Seafood LLC.
– General's Ridge Vineyard (Hague, VA): Oysters Rockefeller and Oysters Cackalacky prepared by Denson's.
– Good Luck Cellars (Kilmarnock, VA): Smoked Oysters, Fried Oysters, Oyster Tacos and raw oysters prepared onsite by the The Great Wicomico Oyster Co.
– Ingleside Vineyards (Oak Grove, VA): Oysters on the Half Shell, Fried Oysters and "Oysters Denson" (grilled with seasonings and topped with Parmesan cheese), all prepared onsite by the R&B Oyster Bar from Denson's. PLUS, live music in the courtyard from 1-4pm on both days (Sat: Jonathan Brown; Sun: The Lewis Sluder Smith Acoustic Trio).
– Jacey Vineyards (Heathsville, VA)*: Oyster Stew and Fried Oysters. Shrimp Cocktail will also be available.  (*Jacey Vineyards will participate on Saturday, Nov. 11 only)
– Oak Crest Vineyard & Winery (King George, VA): Raw Oysters plus fixings, Char-Broiled Oysters and Oyster Chowder, all prepared by Nomini Bay Oyster Ranch. (Shrimp and Chicken Sliders and Hot Dogs will be available for non-oyster eaters.)
– Vault Field Vineyards (Kinsale, VA): Steamed Oysters with Black Bean, Onion & Green Pepper Salsa
Normal wine tasting fees will apply at each winery and oysters will be available for sale. (Please note: This event takes place at individual wineries throughout the Trail. Event hours may vary by winery.)
Want to stay informed? Be sure to "Like" our Facebook page for additional updates throughout the fall leading up to the Oyster Crawl!
We hope to see you there!
Additional links:
– Like us on Facebook for updates
– View Sample Itineraries and Lodging Options
– View an Interactive Map of our Wine Trail
– Check out our Press Mentions
– Watch a video about Virginia oysters, featuring interviews with the Dog and Oyster Vineyard
– Check out the Virginia Oyster Trail website
– Visit the Virginia Oyster Country website
– How do you like your oysters? Watch the Video