Vault Field Vineyards is located on historic Vault Field Farm near the town of Kinsale, in the heart of Virginia's Northern Neck.
Our award-winning wines are the result of a marriage between an exceptional terroir and the latest techniques in viticulture. We, at Vault Field, believe fine wines are made in the vineyard. The care of the vines is yearlong, starting with hand pruning during winter months. Next, comes hand weeding and continued pruning during the growing season. Finally, in late fall, when the grapes ripen, we handpick and sort the individual grapes to produce high quality, premium wines.
All of our wines are produced on site from grapes grown here at Vault Field.
Wines Produced:
Conundrum (Blend of Chardonel & Vidal Blanc)
Red (Blend of Chambourcin, Syrah & Cabernet Sauvignon)
Reserve Red (Blend of Cabernet Franc, Cabernet Sauvignon, Merlot & Petit Verdot)
Rosé
Vidal Blanc
Group Policy:
We have a small tasting room that can accommodate 12 -14 at a time. Small buses and limos are welcome – please call a few days in advance.
Food Available:
We do not serve food, but visitors are welcome to picnic in the vineyard.
Pet Policy:
Pets are welcome, but due to VA regulations they are not allowed inside because our tasting room is part of our active winery. Dogs must be leashed at all times.
Popular winery events:
All the Wine Trail Events
Tasting Fee: $3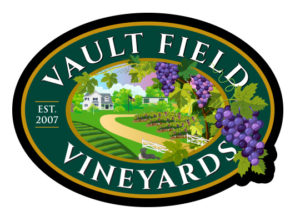 Contact
2953 Kings Mill Rd
Kinsale, VA 22488
804-472-4430
Hours
Vault Field is open for curbside pickup only at this time. Please call to order.