***This event has ended. You can view our 2020 Wine & Cherries event here.***

Saturday thru Monday, February 16, 17 & 18, 2019
Join the wineries of the Chesapeake Bay Wine Trail for a "Wine & Cherries Weekend" to celebrate President's Day Weekend! Participating wineries will be offering cherry treats throughout the weekend to pair with their wines.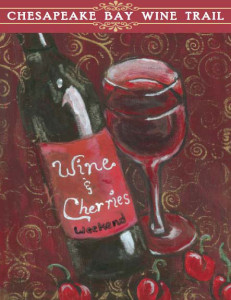 Participating wineries:
Caret Cellars – Mini Cherry Cheesecakes
The Dog and Oyster Vineyard – Cherry Treats
General's Ridge Vineyard – Merlot Cherry Brownie Bites
Good Luck Cellars – Cherry Pie and Cherry Brownies
Ingleside Vineyards – Cherry Treats
Jacey Vineyards* – Maraschino Cherry Chocolate Chip Cookies
Vault Field Vineyards – Cherry Fudge Cake
*Jacey Vineyards will participate on Saturday, Feb. 16 only.
Hours and schedules may vary by winery.
We look forward to seeing you there!
Want to stay overnight?
Several of our wineries offer overnight stays. There are also many local B&B's in the area. You can learn more on our Itineraries page.
Special Offer: The Riverview Inn in Colonial Beach, VA is offering lodging packages for guests attending our Wine & Cherries event. Package includes a 2-for-1 tasting at Caret Cellars and 10% off bottle sales at General's Ridge Vineyard. For more info and to make reservations, please contact the Riverview Inn at (804) 224-4200.
Additional links:
– Like us on Facebook for updates
– View sample itineraries and lodging options at our Itineraries page
– View our Press Mentions